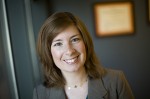 On Wednesday, November 12, 2014, Alma Adams became the 100th woman to serve in Congress.  While this is an important milestone for women, it took nearly 100 years, since 1917, to accomplish it.  And, although women make up approximately 50 percent of the population, women make up less than 20 percent of the members in Congress.
Of the 100 women in Congress, 32 are women of color, a record, including 18 African Americans, nine Latinas, and five Asian American-Pacific Islanders.
After this month's election, between one and five women could be joining Representative Adams (four races with female candidates are still undecided).
For more information about these milestones, check out USA Today's On Politics article by Catalina Camia.