Given the Roman Catholic Church's position opposing gay marriage, it is interesting that at least one Catholic university is taking a different position.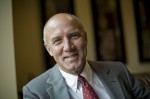 Marquette University, a Catholic university in Milwaukee, recently conducted an anti-harassment training session during which employees were encouraged to report anyone they hear criticizing gay marriage to the school's Human Resources Department.  A spokesperson stated that the "teaching tools" presented in the training "do not necessarily equate to University policy" and that harassment cases "would be reviewed on an individual bases."
Marquette had earlier made headlines after an instructor told a student in her graduate ethics class that the student "did not have the right" to make comments criticizing gay marriage in the classroom.
In the same sex training session, a fictional employee overheard his co-workers talk about their opposition to same-sex marriage all week.  According to the presentation, the employee should report the conversation even if the co-workers were only expressing their opinions and did not mean to offend anyone.  According to the presentation, the co-workers could still be engaging in unlawful harassment.
The training also stated that the person hearing the offensive remarks does not need to be involved in the conversation and that the listener's sexual orientation is also irrelevant.  The presenters stated that the listener does not "need to be gay" to be offended by his co-worker's discussion of same-sex marriage.
Read more here.