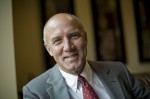 For minimum wage workers who work for an Ohio employer with annual gross revenue greater than $292,000, will receive a minimum wage increase on January 1, 2014.  The new minimum wage in Ohio will be $7.95 per hour a .10 increase.  "Tip" employees will see their minimum wage increase from $3.93 per hour to $3.98 per hour plus tips.
For smaller employers, the federal minimum wage is currently at $7.25 per hour.  The federal minimum wage has not changed since July, 2009.
Click here for a copy of the 2014 Ohio Minimum Wage poster.