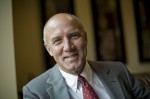 As announced publicly on October 21, and reported in various media outlets, Duke Energy has agreed to settle a class-action lawsuit alleging a pattern of fraudulent behavior by Duke and its predecessor, Cincinnati Gas & Electric beginning in 2004. After seven years of litigation – even an attempt by Duke to have the U.S. Supreme Court intervene – the utility agreed to pay $80.875 million to electric customers who paid bills between January 1, 2005, and December 31, 2008.
The settlement amount represents seven million-plus dollars more than Duke was accused of paying in bribes to 22 "favored" customers in an elaborate scheme discovered by an employee who subsequently became a whistleblower.  $50 million of the settlement will be paid directly to residential and non-residential customers who submit claims to the Class Action Administrator, chosen and overseen by the two law firms who served as class co-counsel in the litigation: Freking Myers & Reul and Markovits, Stock, and DeMarco.
At least another $8 million will be spent on energy efficiency programs administered by a five-person board that will report to federal district court Chief Judge Edmund J. Sargus, who will also decide the amount of attorneys' fees to award class counsel. After payment of fees and expenses, any excess settlement amount will be added to the fund for energy efficiency programs.
If you are a class member and can be located as a Duke customer between 2005-2008 from available information, you may receive a postcard in the mail describing the settlement and the Claims Procedure by December 31, 2015. (Given the lapse in time between 2005-2008 and the settlement, not all Class Members may be located.) You may also find the same information available at dukeclassaction.com, so even if you don't receive a Notice, you may still complete a Claim, which is easy to do. Claim forms will also be available at https://fmr.law/duke-settlement/.
Chief Judge Sargus will conduct a Fairness Hearing on April 18, 2016 in Cincinnati, after which he will finally approve or disapprove the settlement.
If you have questions, please contact Susan Hartung at Freking Myers.