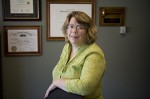 Only 18 states currently have state statutes that protect employees against both sexual orientation and gender identity discrimination in both public and private sector employment.  Additionally, Title VII of the Civil Rights Act of 1964 which prohibits several forms of discrimination, does not include a person's sexual orientation in its protected categories.
On July 21, 2014, however, President Barack Obama signed an executive order making it illegal for federal contractors and subcontractors to discriminate against employees on the basis of sexual orientation or gender identity, and a recent decision by a federal district court judge may have extended protections for gay employees in the private sector.
In March 2014, District Court Judge Colleen Kollar-Kotelly found that a lawsuit by a gay man against the Library of Congress could proceed through the discovery process.  According to the plaintiff in that case, when his conservative Catholic supervisor discovered that the plaintiff was gay, his supervisor began to assign work to the plaintiff which was beyond his experience and which was too much for a solitary employee to complete.  The supervisor also allegedly began lecturing the plaintiff that he "would be going to Hell" because of his homosexuality.  According to Judge Kollar-Kotelly, the plaintiff alleged that he is "a homosexual male whose sexual orientation is not consistent with the Defendant's perception of acceptable gender roles," that his "status as a homosexual male did not conform to the Defendant's gender stereotypes associated with men" and that "his orientation as homosexual had removed him from [his supervisor's] preconceived definition of male." Judge Kollar-Kotelly ruled that these allegations stated a claim for relief and that the plaintiff's lawsuit could proceed.
The United States Supreme Court and other federal appellate and district courts had previously found that terminations or other adverse employment actions based on an employee's failure to fit sex role stereotypes about how men and women should act or dress are a form of sex discrimination prohibited by Title VII.  Judge Kollar-Kotelly's decision appears to extend protection for employees who are terminated simply for being gay.