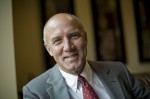 In recent days, there has been a plethora of attention around the criminal allegations against star NFL running back, Adrian Peterson of the Minnesota Vikings.  After Peterson was indicted for a felony child abuse allegation in Texas, he was deactivated for the Vikings' game this past Sunday, reinstated to the team on Monday, and now, in a sudden reversal, has been suspended by the team pending the outcome of the criminal case.
A common question that employees have is "can my employer fire me for what I do on my own time, outside of work?"  The answer to this seemingly simple question is "it depends."  It depends on the activity involved, and whether that activity has any legal protection under your State's laws.  Generally, if there is no law protecting you from being fired for the activity under consideration, your employer can fire you for what you do on your own time, outside of work.
If you are not a union or governmental employee with special protection against being fired without a reason, there are very few state laws that protect you from being fired for activity that you do on your own time, outside of work.  For example, if you are charged with a crime such as DUI, your employer in most instances can discipline or fire you for that conduct regardless of whether you are actually convicted by a court.  The Adrian Peterson case is a good reminder that your off duty conduct should not include any activity that could bring embarrassment to your employer.