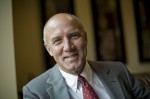 There has been much written about the new contract for the President of the University of Cincinnati, Santa Ono.  The headlines say "Ono receives ten year contract!" (See Fox 19 article; WLWT article.)
A ten year employment contract would be way out of bounds in private industry, and much more so in the public sector. However, while the contract says it has a ten year term, Section 15 of the Contract allows the University to terminate President Ono "without cause" at ANY time, and provides him one year severance. (To read the contract, click here.) Thus, while President Ono may feel secure for 10 years, his agreement is really for one year in terms of compensation. So, if he is terminated without cause (for example, U.C. finds someone else) in 2014, he will be paid for one year thereafter – not until 2022.
This is a relatively common misunderstanding for employees with contracts. What is important is not the stated term ("we are giving you a five year contract"); what is important is how long you get paid if the employer decides to end the contract early "without cause".