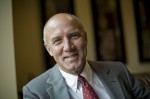 In an Easter gift to baseball fans, Major League Baseball Commissioner confessed he has been wrong for 20 years and has rescinded the lifetime ban on baseball's Hit King, Peter Edward Rose, aka "Charlie Hustle".  Appropriately, Mr. Selig took his action on Opening Day Eve and the Reds are expected to name Rose to replace current manager Dusty Baker, and Rose is planning to return as a part-time player to enhance his statistics.
According to the announcement from Selig, Pete will now be eligible for the Hall of Fame, and Selig promised to throw the weight of his office behind Rose's election.
In a 60 Minutes interview, Selig commented:  "Mr. Rose – then the preeminent player/manager in baseball – signed an agreement in 1989 in good faith that was intended to assist MLB, and he was assured by the then Commissioner that one year would be the length of his banishment from baseball. Our goal was to avoid the Reds from becoming a dynasty under Mr. Rose's leadership throughout the 1990s, and we certainly accomplished that purpose. After over 20 years, it is now time to recognize that Cincinnati deserves a baseball dynasty because it is the greatest baseball town in the world."
Employment lawyers in Cincinnati rejoiced, noting that all discipline should fit the alleged crime. One advocate said "if a suspension doesn't fit the crime, you should serve no time." This seems appropos to Mr. Rose's situation.
Your friends at Freking and Betz wish you a happy April Fool's Day.