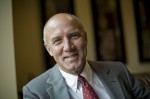 A Covington man has been awarded $1 million by a U.S. District Court jury in Covington in a civil rights case that stretched out over three years.
Clinton Burton, 42, was awarded the judgment against the Massachusetts-based debt-collection company Zwicker & Associates for incidents that occurred at its call center in Hebron. He was fired from his management job in 2010.
Burton, who is African-American, said now he can put the incident behind him and focus on getting his life back.
"I've been through a lot these last three years trying to prove my wrongful termination and intimidating culture that existed at Zwicker, and that I was treated unfairly despite my strong track record," said Burton, a collections manager with the company.
"More important, I pray that they and other companies who treat employees so unfairly learn their lesson, correct their wrongs and do what is right in the workplace so others don't suffer."
Evidence in the wrongful-termination lawsuit included a documented tape recording of a racial slur by a Zwicker & Associates human resources department employee and testimony from co-workers. Burton's attorney, Barbara Bonar, said several jurors told her they were appalled by the comments from employees to Burton.
"We are very happy with the results and appreciate the jury's recognition of the offensiveness of this type of work environment," Bonar said.
Randy Freking, Burton's co-counsel, called the judgment a significant verdict vindicating the rights of African-Americans to be free from a hostile work environment.